FIRST BAPTIST CHURCH-101 SOUTH WILMINGTON STREET-RALEIGH,NORTH CAROLINA-USA3>
"WRITE THE VISION AND
MAKE IT
PLAIN"
habakkuk 2: 1-4


"Feel the Spirit................Come to the Source"

FINDINGS AND RECOMMENDATIONS
FIRST BAPTIST CHURCH
VISION TASK FORCE
JANUARY,1998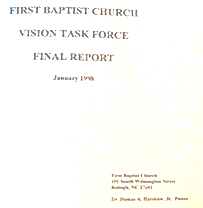 ..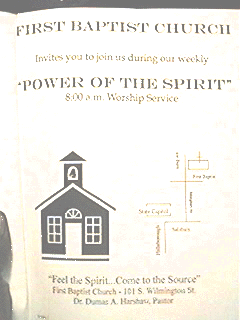 ..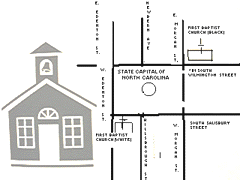 ---
ACKNOWLEDGMENTS

Christ Jesus has counseled us through this Vision planning stage. We believe that "with God all things are possible," but we often hesitate to ask him for great things, which seem to be in the realm of the impossible. Nothing great is ever done for God without some sacrifice. The harvest follows seed-sowing and soil tendiering. A miracle can follow "believing." That miracle is First Baptist of tomorrow.

Faith in God is necessary to achieve success. If we become discouraged and complacent, our faith will grow dim and weak, but if we rely on the eternal God and approach our goals and objectives with a positive ourlook, we can sing with David that the Lord is our Rock and our Fortress and our Deliverer....................................

Kevin & Aleta Howell

(Copied in part from the Booklet "Vision Task Force-Final Report"-Jan. 1998)
---
---
---
---
---
INTRODUCTION

A. Creation and Work of the Vision Task Force

On September 18 during a special call meeting of the Advisory Council, Dr. Dumas A. Harshaw, Jr. unveiled his vision for the Church in a document entitled "Write the Vision and Make it Plain" (Proverbs 29:10). After meeting with the Advisory Council to study the vision plan, the Pastor held a meeting on Thursday evening September 25th to share the plan with the Church Family. The central purpose of this process is to build on our avbility to evangelize, and to edify souls in proclaiming the love of God through Jesus Christ, and by the power of the Holy Spirit. The members and leadership of the Advisory Council, as well as the Deacon and Trustee Boards unanimously supported the creation of a Vision Task Force to build and plan for the future of the Church. The Advisory Council provided invaluable feedback both individually and collectively in an attempt to understand past frustrations of the Church; concernws about the role of First Baptist in the Community; past successes in various areas of the church, and the hopes and dreams for the days ahead. Church leaders then identified members for the Vision Task Force........................

(Copied in part from the Booklet <>"Vision Task Force-Final Report"-Jan. 1998)
---
Pastor Harshaw's Vision presentation....... .............

We write a vision for First Baptist Church and make it plain, because the Bible uture plan says, "where there is no vision, the people perish". Proverbs 29:18.

The purpose of a vision, is to give guidance and direction to God's people, and to see more specifically the plan of God for the church. We are reminded in Habakkuk 2;1-4, THAT IF WE PRAY, LOOK UP, LOOK AROUND, LOOK WITHIN, LISTEN ATTENTIVELY, AND WATCH, TO SEE WHAT THE WILL OF THE lORD IS FOR US AS A CHURCH, that God will speak to us, show to us, reveal to us, the plan and purpose of God for us. When we pray to God for a vision, and carefully observe what answersVi God gives by His Word and direction,then we will know which way to go (Psalm 5:3; 85;8). In this manner, we will receive conviction,counsel and comfort..........................

(Copied in part from the Booklet "Vision Task Force-Final Report"-Jan. 1998)
---
---
..WHAT MONEY CAN BUY..

Money will buy...A BED.but not SLEEP//BOOKS/but not BRAINS//FOOD bot not APPETITE//FINERY but not BEAUTY//A HOUSE but not A HOME//MEDICINE but not HEALTH//LUXURIES but not CULTURE// AMUSEMENT but not HAPPINESS//A CRUCIFIX but not A SAVIOUR//A CHURCH PEW but not HEAVENS//

..WHAT MONEY CAN'T BUY..

JESUS CHRIST..can give freely without charge. Is HE not your LORD and SAVIOUR! If not you can get a new lease on life, right now. Confess to GOD that you have sinned, and that you want to turn from your sins to receive JESUS as LORD of your life. Through that step of believing faith you can start life afresh with your sins forgiven and a new life in CHRIST.
---
---
Article appearing in theTriangle Tribune--Sunday March 8, 1998
---

..

A SHINING LIGHT The Rev. Dr. Dumas A. Harshaw Jr. has been minister of First Baptist Church in Raleigh since September 1996. First Baptist was founded in 1812 with 14 slaves and their nine owners as the congregation. Today, the congregation totals 700. Church plans for the future include additional ministries and a day care center.
First Baptist steeped in rich history
What's unique about it: "Every age group is well represented here," Harshaw said. "This is a very gifted church in terms of the abilities of the people who come here. This is a church that has been open to leadership."

"Church's future plans: Additional ministries and worship services and a day care center. Harshaw said another building-which would house a gym, living quarters and other facilities-also are in the works.......
---
---
---
Questions? Inquires? Complaints? Compliments?

Contact:Web page Master

retired.postmaster@ellis-jones.com

A PRINCE HALL MASON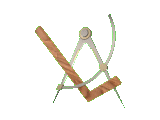 .

.

.